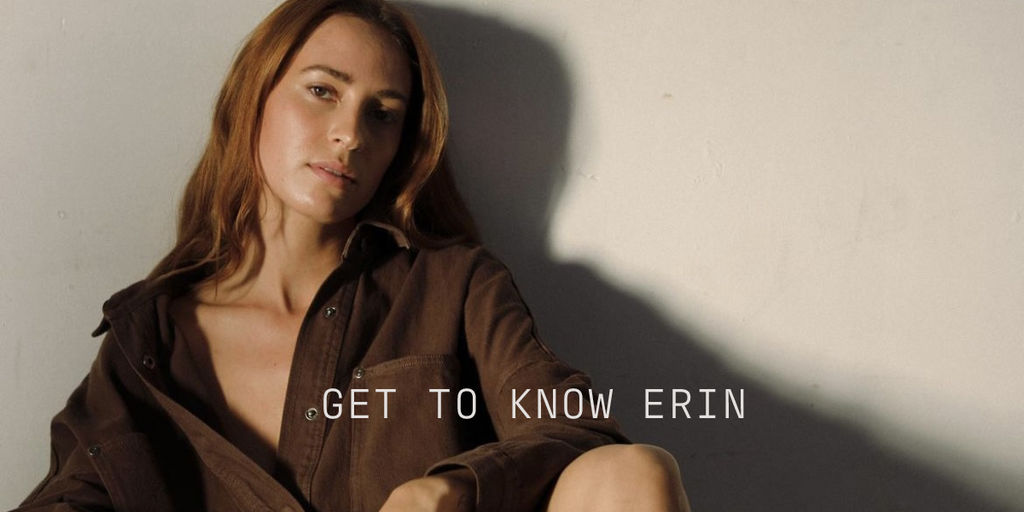 @edina.taylor, also known as Erin Taylor Guerrero, is a lifestyle content creator based out of Orange, CA. With a focus on fashion and slow living, Erin's carefully curated feed shares a daily dose of Californian sunshine and cool girl outfit inspo. Erin sat down to chat about her upbringing, her shift to slow fashion, and fill us in about life as a content creator. We've adored working with Erin and are so excited to continue watching her flourish.
Any nicknames we should call you?
My mother always calls me Edina so I love to go by that as a nickname 💘 
Tell us about yourself.
I'm originally from Arizona, born in the deserts of Tucson, but I grew up in the mountains in a smaller area called Prescott. I spent my childhood barefoot outside like a wild weirdo and I wouldn't have had it any other way. I started traveling as soon as I graduated high school but I eventually found myself in California and ended up staying out here. I've lived all over this state but I'm currently living in Orange. I got into content creation around 2018 but started to take it more seriously these last couple of years. I've always been more on the creative side so content creation and digital marketing was a perfect outlet for me to express myself while also being able to support myself!
What gets you out of bed in the morning?
On the weekdays working out usually gets me out of bed because I want to get moving and start my day off right. However, on the weekends it would definitely be a cup of coffee or matcha that gets me moving. I really love to walk to little local coffee shops in my neighborhood to start my weekend mornings 🌞 ☕️
Take us through a typical day in your life when you're creating content.
When it's a content day I normally wake up a little earlier, get ready then get my caffeine fix before I shoot! If it's for a clothing brand, I'll get all ready (hair, makeup, etc..) and drive around to scout good locations to shoot outside. If it's a beauty or home good product I'll stay home and use the good lighting spots in my house to shoot and bump some good music to get that creativity going. Then of course, ending the day with tons of lovely editing. 
We discussed how you are shifting to working with brands who ethically align with you. Slow brands with good values. Why is this shift important to you?
Like I said I grew up in the mountains surrounded by nature, so I believe this helped ground me and feel that connection to our earth and species on it. This made me more aware of the damage and effect we have on our planet. My mother also helped teach us not to waste and how to live more sustainable. For example we grew up going to thrift stores for mostly everything we needed, she also had a green house and outdoor garden that I loved helping her with. I carried all this passion for living more sustainably throughout my life. However, when I started taking content creation seriously I had trouble finding sustainable brands with a budget. Unfortunately it's usually the bigger companies with mass produced products that are able to pay. Sadly, I had to make money and so I worked for brands I wasn't really ethically aligned with. Now I'm really trying to only work with brands I can get behind and fully support! Sustainable, slow fashion brands like Slate Wearables! Moving forward, I want to feel good about the brands I promote and work with. 
What content creators do you look up to and why?
@olivecooke because she's one of the first influencers/content creators I really looked up to. Her content was always so effortlessly stunning yet simple and not forced. Very organic and natural. 
@kochaorah because not only is she an amazing content creator she's so kind and lives that slow kinda lifestyle I'd love to live one day. I also love how many sustainable brands she's always working with!
@brookeashleywalker because she has such a chic and clean girl vibe to her while also being relatable. I absolutely love her travel posts and cannot get enough of her style 🤌
Any advice you have for someone trying to grow their following?
Oh gosh I could go on for a while about this because I started my Instagram right around when the whole influencer era just started and I remember feeling so pressured to get a huge following to keep up with everyone else growing on IG so quickly. Which honestly was not what I should have been focused on. So I'd say don't hyper focus on the amount of followers you have but more so the connection you have with the people already following you. It can be a really fun and neat community that you have, big or small - doesn't matter! Also, when posting just post what you want. Don't try to follow all the trends to try and keep up. Just stay true to what you like and what you want to put out there.
Top 5 songs currently on repeat.
These would have to be my top 5 songs at the moment in no particular order.
Brother Rabbit - Jacky Bonnet Group 
Ten Long Years - BB King, Eric Clapton
Recipe you can't live without.
I feel like this changes every week but currently a recipe I can't live without is my sourdough recipe! I make sourdough at least once a month and I've finally perfected my recipe for it. Let's be real - I couldn't live without bread.
Top 3 destinations on your bucket list. 
I want to travel literally everywhere but my top 3 would have to be:
Spain
Sicily, Italy
Far North Queensland, Australia 
Skincare must-haves.
My skincare must haves would have to start with celery juice.. I swear it helps my skin so much from the inside out! Secondly, the Vitamin C Serum from Mad Hippie and lastly, my new skincare must have is the Tanning Water from Salty Face.
3 wardrobe staples.
Oh dang. I love basic staple pieces so this will be tough. I'd have to say my denim jeans from Boyish to start. Next, my crew neck sweater from Less Is More and lastly, my work out set from Another Version.
Favourite Slate piece?
My favorite Slate piece would have to be the Sorrento Trouser ♥️ They're perfect in every way. The fit, the 100% linen material, the color. Too good! 

You can follow along Erin's journey toward slow living through her Instagram page @edina.taylor. 
Continue reading