On The Blog: Get To Know Margo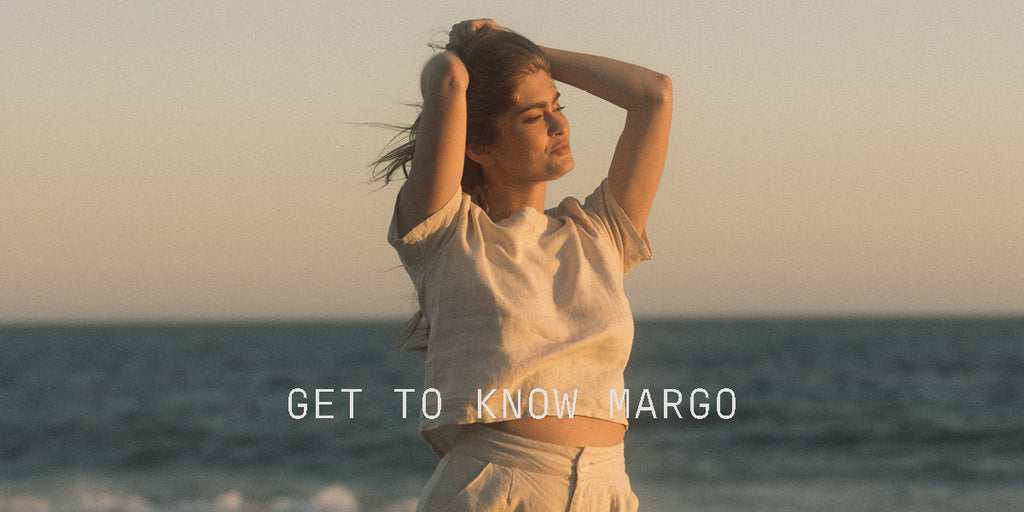 Margo's infectious giggles filled the room the first time we met. I instantly felt her warmth and felt very at ease and comfortable around her. We threw out the idea to shoot together and a year later in Malibu, she modelled for Slate! Her authentic and kind personality shines through in these images, taken by our photographer, Bronson. We would absolutely love to work with Margo again and look forward to watching her continue to grow!
Any fun nicknames?
Margs. Margita. Margolinho. 
Give us a brief introduction about yourself and what you do.
I work as a recruiter on the design and research team at Microsoft, and I am an artist, an empath, and an all around nerd :) 
Where did you grow up?
I grew up in the Middle East - in Egypt and Jordan. My family is Canadian (I was born in Ontario), and we moved back to Canada when I was 10 to be closer to my grandparents as they were getting older. The culture shock of moving to Canada during my early adolescence was reeeeal. But I love that I grew up overseas as it's given me such a great perspective on other cultures. 
Who/what inspires you?
Honestly, I know it's a cliche answer, but my mom truly inspires me. She is the kindest, most affirming, and hardest working person that I know. She always told me that I could be anything I wanted to be, and I am so grateful that she instilled that positive mentality in me. I am also inspired by strong women in general - anyone who displays determination, drive, passion, and who has overcome challenges with grace and resilience, is inspiring to me. I'm basically surrounded by inspiring people :) 
If covid taught you anything, what was it?
That I really REALLY enjoy having personal space from strangers. Remember before covid when people would get too close in line-ups? Remember close-talkers? Yeah, I don't miss those things at all. I am very happy to be 2 meters away from strangers haha
Bucket list travel destinations and why?
Wow this one is hard! Norway - because I'm part Norwegian and I want to explore fjords, see the northern lights, and go to a Viking Museum. Philippines - for all the jungles and islands and caves. And Mozambique - for the animals and the beaches, and because Africa will always have my heart.
If you had to describe yourself in 3 words, what would they be?
Creative, Adventurous, and Empathetic.
How did you get into modeling?
I got into modeling as an experiment in rebuilding my self-esteem after a bad relationship. I didn't really realize how much the abuse from the relationship had been affecting my core beliefs about myself until I was out of it, and I thought it would be a good idea to push myself in front of the camera to get to know myself again and to try to see the person that everyone else was seeing. It was an incredible experiment, and even though I was beyond nervous and unsure of myself, I am so glad that I pushed myself to do it. So glad that I got to know myself. To not only see the person that other people see, but to get to know myself as an adult. To embrace myself. To challenge myself. And to challenge the many perceptions and expectations that the world has on women. As an introvert it's not easy for me to model and to be on display, but I am a big fan of personal growth and of taking the opportunity to face my fears and insecurities and become a better human. This journey has been pivotal for me. And I am very grateful to all of the incredible people that saw something in me and gave me a chance. <3 
Dancing with a glass of wine or reading with a cup of tea?
Reading with a glass of wine ;) haha
Explain why local, sustainable brands are important to you.
The state of our planet is hugely important to me and I feel genuine pain when I think of the ways in which humans are harming the beautiful world that we live in. Local, sustainable brands are what gives me hope and renews my faith in humanity. Brands that are reusing and recycling materials. Brands that are choosing new materials that are less damaging to the environment. Brands that are employing locals and improving the local economy. Being a local and sustainable business owner cannot be easy, and I admire the strength and dedication that it takes to not only come up with ideas on how to improve the state of the earth, but to also follow through on those ideas and create beautiful pieces that make others feel good about what they are wearing. It's hella inspiring. And I feel proud every time I get to wear clothing pieces that have been crafted by such caring and thoughtful humans.
What's your favourite Slate piece?
Gah this is so hard! I mean it is and it isn't haha. I basically live in my Elwood Maxi, so that's probably my favourite piece. But I honestly love all of the pieces! I love linen everything!
You can follow Margo on her IG page: @yoursmargo and her photography page @totallymargo. All images taken by @bronsonwhytcross.